---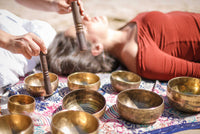 Sale
Sound Healing Course -
2 Days In-Person Training
September 30-October 1
Saturday and Sunday
9am - 3pm
This course trains you and provides you with the skills and knowledge to lead individual or group Sound Healing Sessions.
12hs CE hours available

Investment
$290 Early bird until 1-week prior
$350 Regular Price
$150 Deposit to secure your spot
No instruments or experience needed. Instruments will be available to play and purchase on site.
Who is this course for? 
Everyone interested in Sound Healing Yoga, Meditation teachers, Massage therapists, Healers, People who would like to run their own Sound Baths one to one sessions or Sound Bath events.
Sound is an energy medicine that everyone can utilize to achieve health and transformation.
Learn how to make a difference, helping your family, your friends and your clients with healing sounds.
Get to know different easy-to-play sound healing instruments and how to use them effectively.
You will learn how you can use your own sounds as well as other sounds from healing instruments to lead a happier and healthier life.
1. Learn Origins of Sound Healing, the basic principles and practices of sound healing
2. Intention
3. Chakra/ The Energetic Body
4. Intro in Yoga Nidra
5. Holding Space, Clearing Space, Rituals, Set up & Closing.
6. Healing with Crystal Singing Bowls
7. Healing with Tibetan Singing Bowls & Learning different Types of Tibetan Singing Bowls
8. How to work with Tibetan Singing Bowls to Balance the Chakras
9. Healing with Gongs
10. Healing with Drums and Percussion instruments
11. Healing with your own voice
12. Healing with other easy-to-play instruments like Chimes & Cymbals bell
13. Sound for Stress Reduction
14. Creating One-to-one Sound Healing Sessions
15. Creating Groups Sound Healing Sessions
16. Practitioner Practices
Limited Space - SIGN UP AND RESERVE YOUR SPOT TODAY!
Upcoming classes :
December 2-3 
Patricia Pietra is a certified Traditional Yoga Teacher E-RYT 200 and is a provider of YACEP - continuing education programs. She has been practicing Hatha Vinyasa Yoga, Meditation and Kundalini for the past 15 years.
Patricia is also a Certified Sound Healer, Meditation and Yoga Nidra teacher as well as a Holistic Nutrition Wellness Advocate and Reiki Master.
Patricia leads Sound Baths for large groups; over 400 people each month, in community gatherings as well as on Retreats, Private and Corporate Events in US and other countries.
Patricia holds a degree in Marketing and was working in the corporate world for more than 20 years until she became a mother of two adorable children. She decided to completely change her life and dedicate herself to the Holistic world.
Patricia believes that trough yoga, meditation and sound you can heal your body, mind and soul, she had witnessed the incredible results on her students. Especially for anxiety, depression, stress related issues, helping them to achieve balance on their bodies, mind, immune and nervous system. She loves to share her passion with others.
Namaste, and thank you for visiting
Synergy Center for Yoga and the Healing Arts! 
Synergy is the oldest and first Yoga Studio in Miami Beach, h
aving served the community for over 20 years 
with a variety of traditional Yoga styles, teachings and the healing arts.
  Synergy Yoga was originally founded by
Gaia Budhai
in 1995, with an emphasis on creating community.
From our humble beginnings on Espanola Way to our current 3 room center in 844 Alton road, it has always been our purpose to bring love, light, happiness, and health to all who enter.
We offer over 50 classes per week, with a unique selection of the most refined styles in Yoga. These styles include Hatha, Ashtanga, Vinyasa, Kundalini, Slow & Restore, Yin Yoga, Universal Yoga and others.
 Slow & Restore and Pre-Natal classes are available for mothers or new students or individuals with back pain or injuries.
Other classes such as Meditation/Sound Bath Healing, Hot Yoga, Power Yoga and Kids Yoga are also available.
Click Here
to see our Class Schedule.
In addition to our regular classes, we offer a wide variety of Holistic Healing Arts performed by seasoned & experienced practitioners.
These services include Deep Tissue Massage, Vedic Thai Massage, Pre-Natal Massage, Reiki, Acupuncture, Reflexology, Chakra Balancing,
Sound Bath Healing and much more.
You can see all of our Holistic Healing Services
here
.